Seventeen-year-old Cassie is a natural at reading people. Piecing together the tiniest details, she can tell you who you are and what you want. But it's not a skill that she's ever taken seriously. That is, until the FBI come knocking: they've begun a classified program that uses exceptional teenagers to crack infamous cold cases, and they need Cassie.
What Cassie doesn't realize is that there's more at risk than a few unsolved homicides—especially when she's sent to live with a group of teens whose gifts are as unusual as her own. Sarcastic, privileged Michael has a knack for reading emotions, which he uses to get inside Cassie's head—and under her skin. Brooding Dean shares Cassie's gift for profiling, but keeps her at arm's length.
Soon, it becomes clear that no one in the Naturals program is what they seem. And when a new killer strikes, danger looms closer than Cassie could ever have imagined. Caught in a lethal game of cat and mouse with a killer, the Naturals are going to have to use all of their gifts just to survive.
M: This is going to be hard, because I don't remember it.
R: I think we'll do just fine! For those of you playing along at home, today we're reviewing a book that we read almost a year ago, because the sequel is coming out soon and Megan and I were fortunate enough to get a copy before publication. Yay!
M: And it was very very good and we wanted to share it with you!
R: So, on to reviewing book one! I like the cover in that it gets your attention and makes you wonder what the book is about. Does it perfectly fit with the story? No.
M: Can I just say I probably would not have read it, had you not recommended it. However, it's not because it's a bad cover, it just doesn't scream "Megan!" and that it's not really my preferred genre. I did really enjoy it though and I've switched to more mystery since, but with YA mystery you just never know whether it's going to be good.
R: My absolute favorite part of this series has to be the interludes between the chapters where it's set in second person. They're so well done and they add a deliciously creepy factor to the story.
M: Definitely and this book had creep factor that was pretty high anyway. Do not read before you go to bed. Just a warning.
R: Yeah, the creepy bits sneak up on you. It definitely appeals to people who watch Criminal Minds.
M: I can see that. There were some good not creepy parts too.
R: And funny!
M: Funny?
R: Yeah, the banter between the characters. I think.
M: I guess? I sort of remember that. I definitely liked the group rapport. You also learn a lot about profiling. Whether it's true or not, I couldn't say. But it probably is.
R: It was also really nice to see that the team was a mix of profilers, plus so many of the mystery series feature crime solvers who just luck into finding the evidence. Whereas these teens have an actual skill and they aren't ESP type skills.
M: In a roundabout way, I see what you mean. I think the biggest thing for me is (at least initially) they were solving crimes that didn't pertain to them in any way shape or form, whereas most of the mysteries I've read the protagonist HAS to find out what's going on because they're totally wrapped up in it. These protagonists are much cooler.
R: A definite downside to this book, and the subsequent book, would definitely be the love triangle. I'd love the story so much more if the love triangle did not exist. I like the 3 characters individually, but it was a little annoying.
M: So much teen angst. I definitely agree that it would be so much better without it.
R: It was so unnecessary! I'd be fine with Cassie liking one of the boys, but the triangle aspect gets so overplayed in YA.
M: Definitely and since you told me we were allowed to talk a bit about the second book, then let me just say, that was probably my least favorite part.
R: But at least a decision was made, so yay!
M: Yeah, sort of. I don't know if it will stick.
R: So, if you can handle the love triangle (which doesn't feature that heavily in the story), you should definitely check out this book and then gobble up Killer Instinct when it comes out in November.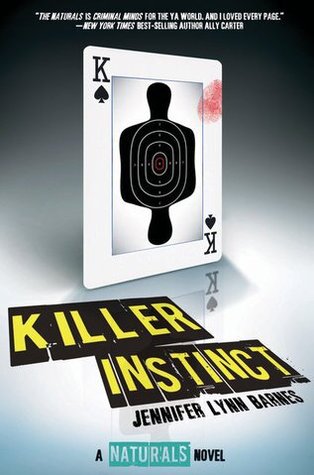 M + R: Thanks so much to NetGalley and Disney-Hyperion for giving us early access to the title! Also, it's not our last review. But Megan is leaving to go to grad school, so we will only be able to review books occasionally.

Book: 5 out of 5 stars
Cover: 4 out of 5 stars